The Turnout -
NUMBER 286 OCTOBER 2000 - ISSN 0227-244X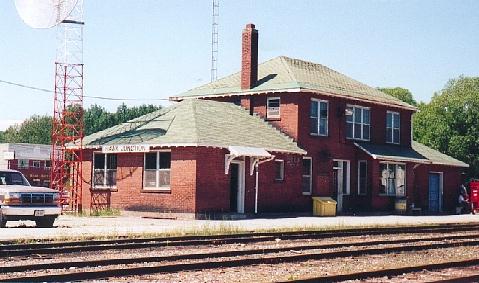 The Hawk Junction Railway Station, pictured above, is still in operation today. Algoma Central passenger trains still runs between Sault Set. Marie and Hearst ON. Photo by Sidney John Bowles
---
An Editorial is in each issue of Turnout
---
This Month's Quotes
"O Canada, it's only good business, they say. O Canada, our home and native land, from Prince Rupert, B.C. to Jackson, Mississippi--until a U.S. court said no." Toronto Star editorial on the demise of the CN-BNSF merger, Toronto Star, July 24.
"They (the PCC's) were very challenging to drive. It's more manual and mechanical, so you're more in control of the car." TTC operator Carlos Munoz on the difference between driving a PCC and a CLRV. GTA Today, July 24.
"I call it the missing link, but don't underestimate the importance of it. It's amazing what a few meters of track can do for you." TTC Chief General Manager< Rick Ducharme on the opening of the Queens' Quay trackage between Spadina Avenue and Bathurst Street. Globe & Mail, July 22.
"We are truly convinced the timing is right. Commuting time is rising in so many cities throughout North America, and Europe and developing countries in South America and Asia are also suffering from congestion." Bombardier Transportation Division Chief executive Jean-Yves Leblanc on Bombardier's purchase of Adtranz from Daimler-Chrysler AG. Toronto Star, August 5.
---
In Memoriam: Walter J. Bedbrook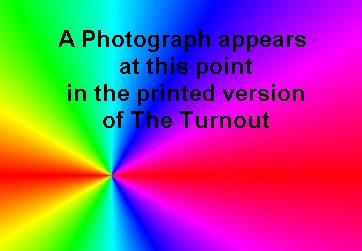 One of the highlights of Walter's years as Toronto & York Division president occurred on Saturday, November 10, 1979 when he officially presented CNR 6218's builders plate to the Fort Erie Railroad Museum in Fort Erie, ON. Photo by Hollie Lowry
It is with deep and profound regret that we sadly report the death of longtime CRHA and T&Y Division member Walter Bedbrook on August 31, 2000 at the age of 80.
Walter had a lifelong love for trains. both actual and model, and he never wavered in it. As a result of an energetic membership drive, he joined the CRHA as a regular member in 1960, being first introduced at the October regular meeting.
From the outset, Walter was very much an active member in CRHA activities. He was one of the early volunteers at the Canadian Railway Museum after its inception in 1961. His biggest accomplishment at the museum was the acquisition, moving and restoration of the CNR Barrington, PQ station. He also served on the CRHA Board and was the head of the Excursions Committee, which organized and operated a number of highly successful train excursions.
In April 1970, Walter and his family moved to Toronto but, even then, his involvement in the CRHA didn't end. At the urging of a number of Toronto area CRHA members, he helped to form the Toronto & York Division in March 1972 and was one of the fifteen members who signed the Application for Charter.
He was also the Division's first president, serving in that capacity from 1972-1980. During his tenure, Walter implemented a number of ideas and programmes. One of those ideas was a model railway show, which has now grown into the largest model railway show in Canada, the annual Toronto Model Railway Show.
In 1984, after a two-year stint in Saudi Arabia, Walter retired from his employer, Bell Canada, and moved to Picton, ON. There, he helped to form the CRHA Kingston Division and implemented the annual CRHA Awards programme. He also served as Editor of the Kingston Division's bimonthly newsletter, "Kingston Rail."
But Walter was also an avid model railroader and collector. Over the years, he amassed an outstanding collection of early 20th Century tinplate model railway cars and accessories. His exhibit at the model railway shows was an eyecatcher for people, both young and old.
He has left behind a rich and lasting legacy, which will be hard to duplicate.
The Toronto & York Division extends its deepest sympathy to his wife Rita, his family and friends, and to all CRHA members on his passing.
---
STREETCAR "MISSING LINK" OPENS - is on page 5 of Turnout
by Hollie Lowry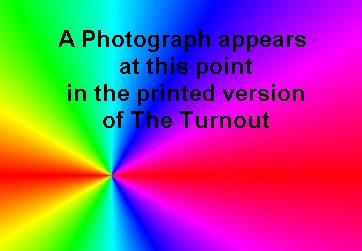 The TTC streetcar trackage on Queens' Quay W., looking westerly, on Sunday, July 16, 2000, one week before the start of revenue service. Photo by Hollie Lowry
---
A PRIVATE EXCURSION
TO VIEW THE WISCONSIN CENTRAL RAILWAY
by Paul/John Bowles
A Mural on a wall of a build located at the Town of Chapleau. Photo taken by Sidney John Bowles
On July 29, 2000, we set out from Huntsville for Sault Ste. Marie ON. We went over to Highway 69 and travelled up to Sudbury. We then proceeded west along the Trans Canada Highway #17 watching for CP trains as we travelled but saw nothing. When we arrived in the Sault, we went to the train station where we saw the Algoma Canyon Tour Train come in. We went back on Highway #17 and found a Motel to stay the night and had supper at the Chinese Restaurant. After supper, we went back to Sault Ste. Marie and went down to the locks where we found a railway swing bridge. About an hour later, after two tour boats went through, the swing bridge swung closed. After about a 20-minute wait, the Wisconsin Central Train that we saw idling in the yards crossed the bridge on the way to the U.S.A. The next morning after breakfast, we proceeded north on the Trans Canada Highway #17. We stopped at the Algoma Central Railway bridge and saw the Tour Train going north on the way to the Canyon. We then proceeded north to the Town of Wawa where we had lunch. We proceeded east to Hawk Junction where a lot of people were waiting for the Passenger Train to come. Since we had lots of time, we found a Hotel across the street from the station. We went back to the station and found that the station is still in operation. About five-luggage train carts were full of luggage waiting to be loaded on the two baggage cars on the train. When the train arrived at the station, the train was in Algoma Central colours. which had two baggage cars and 3 coaches. When the train was loaded up and had left, we found out from the woman who was on duty at the station, that the engineer that was supposed to be on the freight train later, went the day before with the freight because he was needed in Sault Ste. Marie. There was not going to be anymore trains that day or night, We travelled east to Hwy #651 and went north until we came to the CP line near Missanabie. We stayed there to see if any trains would come along. We saw about a half a dozen track work cars come along. We found out that one of the workers had an accident while working on the tracks. The track sprung back and broke his ankle. We went back to the Hotel to spend the night. After we had breakfast in the Hotel, we then left for Chapleau. We arrived there in time for Lunch where we sat beside the track outside of town and saw four freights go through. We then travelled into Town and found the Motel where we stayed in before which was beside the railway yards. This town is where crews are changed and is very train active. We then traveled east on the way back to Huntsville. On the way we came to the small Town of Sultan where we saw another CP freight train. We proceeded east along a dirt road put in by Domtar Paper Mills. At Hwy #144, we turn south where we saw a few more freight trains. We then arrived back to Huntsville on August 1, 2000 where we concluded another successful train watching adventure.
---
MOOSE IN THE CITY!
by Hollie Lowry
Members will view the following 2 photos in this space
(Photo 1) The "GO-GO" Moose as it looked in the GO Concourse at Toronto Union Station on the afternoon of Sunday, July 16, 2000
(Photo 2) The "TTC Subway Stations" Moose shown at the south end of the Davisville. subway station on the afternoon of Sunday, July 16, 2000
Both photos by Hollie Lowry
This summer as a public art display, more than 300 life sized fibre-glass moose are being displayed at various places throughout the City of Toronto. They have been designed by various artists and are very colourful.
Of interest to rail/transit enthusiasts are two moose sponsored by GO Transit and the Toronto Transit Commission (TTC).
GO Transit's moose is entitled "GO-GO Moose" and was unveiled on Tuesday, June 13, 2000 in the GO Concourse in Toronto Union Station. It was painted by 30 volunteers from the Art Easts group in the Kingston Road United Church. (In fact, GO is the only known corporation to issue a fact sheet on its moose.)
The TTC's contribution, entitled "TTC Subway Stations" is moving around to various TTC locations within the city. At one time, it was at the south entrance/exit to the bus bays at the Davisville subway station, but as of August 23, it was at the eastern end of the Exhibition streetcar loop. The artist is Studio 1181.
Both moose will be on display until November when, along with other moose, they'll be auctioned off with proceeds going to support Canadian Olympic athletes and a variety of other charitable organizations.
---
ITALIAN RAILWAY LABOURERS IN TORONTO

by Ian Wheal appears in this issue of Turnout
---
Rail Clippings - by Hollie Lowry
Canadian National Railways
The Canadian National-Burlington Northern Santa Fe (CN-BNSF) merger is dead. At a joint press conference on July 20, CN CEO Paul Tellier and BNSF CEO Robert Krebs announced that they're calling off the merger. The announcement came after an U.S. Appeal Court upheld a 15-month moratorium on railway mergers imposed by the U.S. Surface Transportation Board in March of this year. Tellier stated that the forced delay would have made it more difficult for the merger to succeed and they concluded that waiting up to 2.5 years for the necessary regulatory approval wouldn't have been in the shareholders' best interests. However, CN and BNSF stated that they intend to continue to strengthen their ties.
(Interestingly, both the Toronto Star and Globe & Mail had editorials in their respective July 24 editions on the aborted merger. The Globe took the stance that merger should go ahead as it would have created a new future for the railways. The Star, on the other hand, stated in a lighthearted manner that it took a U.S. Court to help save Canada from the constant tug pulling us south.)
No sooner had the CN-BNSF merger been called off, than the next day, July 21, CN announced that it had reached an agreement with rival Canadian Pacific (CP) to share trackage in Canada and the United States. Under a five year agreement,
CP will move CN's forest products traffic to distribution centres in New York City, Albany, Philadelphia and Scranton. Under a three-year agreement, CP will route a minimum of 14 merchandise and intermodal trains per week over CN's Oakville. Dundas and Strathroy Subdivision and on to Chicago from either Canpa Jct. in the west end of Toronto or Komoka, west of London. It allows CP to run doublestacked trains through CN's St. Clair Tunnel at Sarnia, ON, taking pressure off the congested Windsor-Detroit Tunnel. The railway the railways foresee no major snags with Canada's competition bureau.
At 2030 on July 31, a CN freight train was seen passing westbound through the Eglinton GO station. The train had a six-unit lashup including a leased GEC Alsthom unit. Included in the train's consist was a GO Transit style bilevel car painted and lettered for "Trinity Railway Express,"
Bombardier
On August 4, Bombardier announced that it has reached an agreement with Daimler-Chrysler AG to buy the letter's passenger rail unit, known as Adtranz, for $1.1 billion. The deal will make Bombardier the No. 1 firm in transit vehicle production. The deal is still subject to regulatory approval.
Bombardier has won a $51.3 million contract to build 29 electric train passenger cars for three Swiss railways. Six three-car commuter train sets are being sold to BLS Lotschbergbahn of Bern, three two-car sets to Transports de Martigny et Region and one three-car and a two-car set to Transports Regionaux Neuchatelois.
GO Transit
For this year's edition of the Canadian National Exhibition, which ran from August 18-September 4, GO made a number of changes to its Lakeshore schedule including having several rush hour trains stop at Exhibition station. But the biggest change was the provision of all day train service on the Lakeshore line between Oshawa and Burlington on weekends and Labour Day Monday. Also, on the Labour Day weekend, two extra trains operated from Oshawa and Burlington to accommodate people going to the Canadian International Air Show.
In other GO news, F59PH No. 538 is sporting what looks like an air conditioning unit on the top of its cab...Bilevel car No. 2053 is now a "moving billboard" for Enbridge Consumers Gas while another bilevel is a "moving billboard" for CIT.
Toronto Transit Commission
Coincident with the opening of the 509 Harbourfront streetcar route mentioned elsewhere in this issue, the 121 Front-Esplanade bus route was discontinued. Service on that portion of the route east of Bay St. is now provided by the 72A Pape route Monday-Friday and by the 65 Parliament route on Saturday. There is no Sunday or holiday service. There is also no TTC service now on that portion of Front St. between Bay St. and Spadina Ave.
From July 23 - September 2, streetcars on the 510 Spadina route were replaced by buses between Spadina station and Queens' Quay to allow for the installation of barriers or bollards. Service on Queens' Quay between Union Station and Spadina Ave. was provided by extra streetcars on the Harbourfront 509 route short turning at Queens' Quay Loop.
On the weekend of August 25-26, rails and trackbed at the westbound streetcar stop on College St. at Havelock St. (east of Dufferin St.) were replaced. Shuttle buses operated through the area with 506 College streetcars detouring via Bathurst St. and Dundas St. W.
A tragic murder/attempted suicide at the St. Clair West station at about 0650 on August 11 resulted in a 2.5-hour closure of the Spadina Subway between the Lawrence West and Spadina stations. Ironically, it occurred to the very day on the fifth anniversary of the 1995 Spadina subway tragedy.
A new crossover switch set has been installed at the Keele station on the Bloor-Danforth Subway.
BC Rail
The school train that operated weekday mornings between Seton and Lillooet, BC has been discontinued. The Lillooet school board decided not to renew the contract with BC Rail after the railway demanded a higher price for the service. The students now board in Lillooet during the week. The coach used in the service, named "Budd Wiser", has been sold to the Vancouver Island based wilderness Railway tourist train operation, for possible conversion to a parlour-observation car. (The Sandhouse)
Anniversaries
July 19 marked the 100th anniversary of the opening of the Paris Metro. Nine stations are marking the occasion with special displays on themes of the century...The Last Spike Centennial of the White Pass & Yukon Route Railway was held in Carcross. YT on July 29. (The Sandhouse) ...August 25 marked the 50th anniversary of the delivery of the first two Diesel-electric locomotives to be built at what is now DDGM in London, ON, TH&B GP7's Nos. 71 and 72. Tragically, No. 71 was destroyed in a level crossing mishap at Welland, ON in February 1980. (Tempo, Jr.)
LCL's
On July 23, a Superior Court judge ruled that the class action lawsuit arising out of the April 1999 Thamesville, ON derailment (see The Turnout No. 274, June 1999) may proceed. He stated that a monetary offer from VIA of a minimum of $1,000 each is "still in a state of flux" 15 months after the derailment...Ex CNR N4A 2-8-0 No. 2534, now at Brighton, ON, has been reassembled and given a fresh paint job...The movie "Thomas and the Magical Railroad" received less than favourable reviews.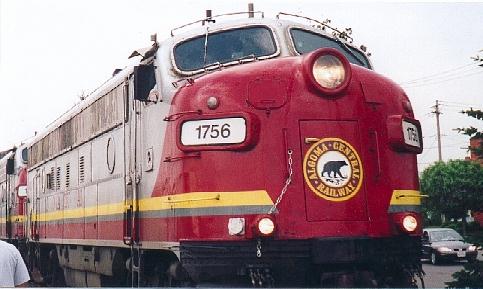 FP9A #1756 ex VIA, net CN# 6502 which was one of the locomotives that pulled The Agawa Canyon Tour Train on Saturday, July 29, 2000. The train has just returned at approximently 1730. Photo by Sidney John Bowles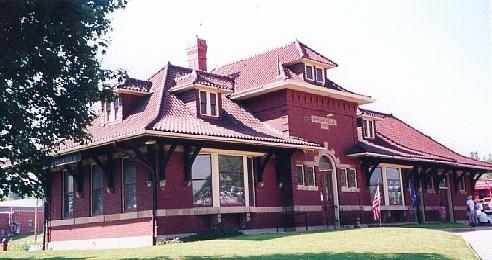 The Springville Train Station in Springville, New York. It is now used as a Craft Store. They also have a TTC PCC #4434 car, which they are going to turn into a coffee shop. Photo by Sidney John Bowles

Turnout Index Page : Toronto & York Main Index