TURNOUT

- NUMBER 291 MARCH 2001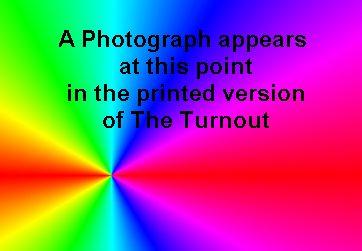 The former Canadian National Railways Craigleith, Ontario station as it looked in May 1982. At the present time, there are questions as to the station's future and whether it will be preserved or demolished. (Photo by Hollie Lowry)
In the October 1998 Issue No. 266 of The Turnout, it was reported that Ken Knapman was trying to sell the former CNR Craigleith, ON station which he had been operating since the late 1960's as a restaurant. However, ill health had forced him to put the operation up for sale. Shortly before his death in July 1999, a deal was announced that the station would be sold to an individual who would preserve the structure and convert it into several boutiques.
But shortly after Knapman's death, the deal fell though. His widow struggled to keep the restaurant going for two summers in hopes that an investor could be found who would commit to preserving the building. But late last year, the building was sold to a Collingwood real estate broker. Once the deal was finalized, all the artifacts had to be cleared out in a few days.
At the time of writing, no decision has been made as to the fate of the station.
---
Y2K Bug Belatedly Hits Norwegian Trains
by Hollie Lowry - Adapted from Toronto Star
Throughout the late 1990's, many computer technicians and system programmers were busy reprogramming their computers so that there would be no major problems or disasters when the clocks rolled to January 1, 2000. Fortunately, there were only a few minor glitches and the "Y2K Bug", as it came be known, was soon forgotten about.
But on New Year's Eve 2000, the bug belatedly hit Norway's national railway company when none of the company's 16 new airport express trains or 13 high speed, long distance Signature trains would start early on the morning of December 31.
The train's onboard computers apparently didn't recognize the date "12/31/00", something not thought of by the experts a year or so earlier. The problem was quickly solved on a temporary basis by resetting the computers to December 1, 2000.
None of the older transits were affected by the problem and, by New Year's Day 2001, all trains were running as usual. But now, the experts have to figure out what went wrong and fix the problem for good.
---
By Great Northern and Canadian Pacific Railway to West Toronto
by Ian Wheal
A Copy of a CPR Waybill from 1919 appears in the printed issue of "Turnout"
Thousands of Montana war-horses made the journey from Bowdoin (Milepost 2219) by Great Northern, Canadian Pacific and other rail carriers to the Union Stockyard. "Warrior" horses usually traveled in trains of twenty horse cars with twenty horses an average to a car. There were one, two or three trains a week to Canadian Pacific's Lambton-West Toronto yards. Horse corrals at West Toronto with rest stops in Chicago and Windsor, Ontario.
Montana horses were considered among the best as suitable for war service. "Warrior" horses were received at the Horse Corrals (St. Clair Ave. West and Symes Road). They were rested, fed and inspected over a few days before being reloaded and shipped to Montreal and points east. The arid short grass regions of the United States western plains saw well over 500,000 horses shipped by rail to eastern seaports on their journey to conflict areas of the Great War.
Not least in this epic story is the part played by Canadian Pacific as a carrier both from the United States and Western Canada. Thousands of Alberta horses went by the CPR to Montreal and other eastern ports.
An unknown but substantial number went by the port of West Toronto.
---
Mount Stephen

Photo: Dave Shaw, from Richard Montgomery Collection
The "Mount Stephen" is a preserved classic Canadian Pacific Railway business car. It was build at Canadian Pacific's Angus Shops in Montreal in 1926. CPR craftsmen built the car in just eight weeks at a cost of $72,500 Cdn.
The car is named after Sir George Stephen, Baron Mount Stephen, the first president of Canadian Pacific, who served in that post from 1881 to 1889. Built to serve as a directors' car for daytime business use, the business car "Mount Stephen" was thus known as a "day car". It was not equipped with executive sleeping space, but it did include a large lounge/ observation room, a spacious dining room seating fourteen guests, a private office, a cloak room, two tiled lavatories, a kitchen and crew quarters. Weighing more than one hundred tons, the car sports an art interior, complete with inlaid Circassian walnut paneling and veneer imported from Russia.
Early the following year, a sister car, the "Strathcona" was constructed at Angus. Named after Sir Donald Smith, Baron Strathcona and Mount Royal, a prominent early director of Canadian Pacific and Lord Mount Stephen's cousin. It was fitted out almost entirely with bedrooms and was thus a "night car".
The two cars frequently were operated together on trips of inspection by the CPR's directors, or for special occasions. Two such occasions are noteworthy: In 1943, following the Quebec Conference of allied wartime leaders, the two cars were used by Winston Churchill as part of a special train carrying the British prime minister on a round trip to Washington; and in 1951, Princess Elizabeth, who became Queen Elizabeth II the following year, crossed Canada on the cars with her husband, the Duke of Edinburgh.
In 1971, The Mount Stephen was assigned to the then Communications and Public Affairs Department of Canadian Pacific Railway as a "working relic". It has been used across Canada and some parts of the U.S. for many gatherings, displays and functions of a historic nature. It was completely refurbished in 1997 and is now back in service as an active member of CPR's business fleet.
---